Non-Profit In West Montgomery Aims To Serve Washington Park Community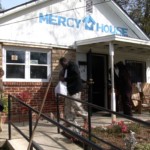 Some people do not have all of the simple luxuries that many of us take for granted; that's why Mercy House is stepping up to help.
The Mercy House is located in the West Montgomery neighborhood of Washington Park. It has been serving the community for two years, but got its official open as a non-profit organization in early October. The organizations goal is to transform the Washington Park community.
Mercy House is open daily. The facility has a food pantry where hot food is served daily to children, the elderly, and the homeless. There are also washing machines,  dryers, computers with internet access and printers, but with a cold snap bearing down on Montgomery perhaps the most important commodity is the clothes closet.
People can get warm clothing items such as coats, sweaters, socks and scarves.  It also serves as a place for those needing clothes for job interviews, school, and other functions.
Mercy House serves emergency food baskets to about 50 families on a weekly basis. Executive Director of the Mercy House, Rev. Ken Austin says they are always in need of volunteers and donations.
The Mercy House is located at 2412 Council Street and open Monday – Friday from 10am to 7pm , Saturday from 10am to 2pm. Contact Mercy House at 334-676-3040 or visit http://mercy house.org