Survey: Alabama Child Care Enrollment Down by 23,000 Kids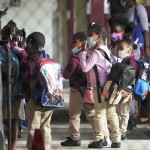 A new state report shows enrollment in child care centers across Alabama has dropped by more than 23,000 children since the coronavirus pandemic began.
Human Resources says an October study showed that 85% of the 2,381 facilities it surveyed have reopened since the initial lockdown that forced businesses to close. But centers that have reopened are operating at only 66% of capacity.
The agency says overall October enrollment in licensed centers, licensed family child care homes and exempt facilities was down by 23,241 kids. That's a 22% drop since January.
(Copyright 2020 The Associated Press. All rights reserved. This material may not be published, broadcast, rewritten or redistributed without permission.)