Memorial Held for Tuskegee Murder Victims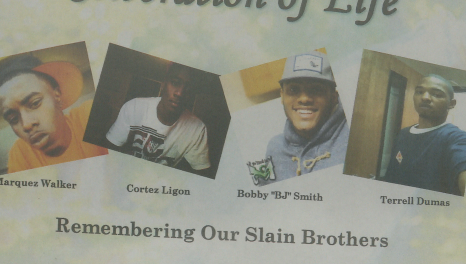 Four men in their early 20's, lost to gun violence in four separate incidents, all in Tuskegee. Today the family's of the victims came together, many strangers to each other but united by grief. 
When one Tuskegee resident heard of three murders of young men in his community all in the past year he felt he had to do something. Scott Muhammad got in touch will the victim's families and also the mother of a Tuskegee University student murdered in 2013. 
Today he brought them together for an atonement, praying together and sharing stories of their loved.
It's an effort to help the healing process and also inspire change in the community. 
Scott Muhammad, Co-Director SEED Incorporated said, "there were in stories reports one of the young men, or maybe two, may have been involved in drugs or had a gun. Maybe that's true. That does not justify a murder. No one has the right to take the life of another human being."
Cynthia Smith, Mother of Bobby Smith said, "He was 21 years old and he made such an impact on people's lives so god knew he was going to take him at 21. But God also has for me, and I think the plan god has for me is they've got to get some type of medical facility for those kids."
Leaders of the event today are also planting four separate gardens in honor of each of the young men killed in Tuskegee.