Valiant Cross Academy Needs Your Votes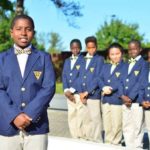 One school in downtown Montgomery is a finalist in a nationwide competition aiming to make a difference in your community.
The grand prize is 100,000, but first the school needs your votes.
"100,000 dollars for these young men would change their lives" says Kimberly Baker, director of development at Valiant Cross Academy.
She says that the all boys private school is funded by nothing other than private donations and grants so they are always looking for new ideas to keep the school afloat. That's why she submitted a video to qualify the school  for "a thriving community" competition.
"The whole mission was about communities thriving and Valiant cross academy is new in Montgomery, Alabama we've only been around for about 2 years and we have been thriving in this community and what a better way to show the community than to enter this competition" says Baker.
The school started with it's first class of 30 6th graders in 2015. The plan is to continue to add a grade level to the school each year and to graduate the first class in 2026.
Baker says "we can fit one more grade here  so it would be so nice if we could have a jump start into our new building when we try to have our high school which is our 9th grade class."
One student says  "I hope that we win because we could surely use the money so more males can come to the school."
Darrion Singleton is a 7th grade student at Valiant Cross Academy. He adds "We need scholars in our community people who are highly intelligent so that can have good jobs and so they can provide for their families".
They are now in the finals of the competition, and closer than ever to the 100,000 grand prize or one of the two 50,000 dollar grants, but first they need your votes.
To cast your vote for Valiant Cross Academy in the "a Thriving Community Competition click here and search for Valiant Cross Academy.