Man Dies Following Wednesday Morning Montgomery Shooting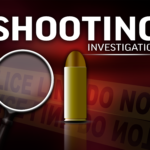 Montgomery Police are asking for the public's help to find a man's killer.
They say Chandler Blue, 19, of montgomery, was shot in the 3300 block of Fountain Lane at about 12:14 a.m. Wednesday. Blue was taken to a local hospital and died Thursday.
MPD investigators are working to determine what led to the shooting.
Anyone with information the can help find the shooter in this case is asked to call Central Alabama Crimestoppers at 215-STOP.