Your Town Friday: Chilton County Peach Fest Preview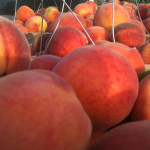 Chilton County Peach farmer Kenneth Easterling says that peaches aren't the only thing that make Clanton stand out, but its by far the most well known. He describes Clanton as "a good place to visit a better place to live". He also says "I go around selling peaches from different locations, and you'll be surprised how many times I hear the saying "are those Chilton County peaches"?
Some say they can't quite put their finger on what makes Chilton county's peaches better than the rest. Chilton County resident Peggy Jones says "it must be the soil".
"It's not opinion, if you eat them you'll know" says farmer Kenyon Easterling as he explains why Chilton County harvests the best peaches year after year. He says "we're just far enough north to get enough cold weather or chill hours or dormant hours for the peaches , and then we're just far enough south to get enough warm weather to grow them also so its kind of a mix of latitude and elevation".
Both farmers admit that the weather was unfavorable for peaches this year, making their job a little tougher.
Kenyon explains "It's just been a challenging year for the peach farmer, few years is it ever just exactly right but this year. The last two or three years nothing has gone right". His father Kenneth says "It comes with the territory, if you plant trees, you've got to deal with that, its something every year that a peach farmer has to deal with".
Despite those obstacles, they say that there will be more than enough peaches to go around at this years Peach Fest.