i-TEAM: Trooper Shortage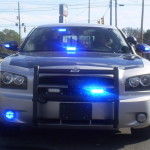 If you drive Alabama's roads, it's hard not to notice who you don't see much of: Alabama state troopers.
You can drive for at least an hour in any direction without ever seeing one. It could be because they're hiding, but most likely, it's because there aren't enough of them. Alabama only has 243 troopers on the job. That's among the lowest in the country.
That is well below the nearly 1000 a University of Alabama study found the state needs to adequately monitor the highways.
Macon County Sheriff Andre Brunson has taken notice. "When we have accidents, we're the first responders. Maybe 90% of the wrecks, we're there first and we have to use all of our manpower on wrecks until the troopers get there because they have do the scenes so that kind of hinders us a little bit."
The Macon County Sheriff's Office, along with many other local law enforcement agencies around the state, are feeling the pinch of the trooper shortage. At one time, three troopers were assigned to Macon County, But now because of budget cuts over the years, only one trooper is assigned to the county. That's better than some other counties with no troopers assigned to them.
"People doing more speeding, causing more accidents. We've had on the interstate here in Macon County between exit 42 and exit 22, there have been so many accidents, and a lot of them with fatalities and I just think if there were more troopers, the visibility would slow those people down," said Sheriff Brunson.
Numbers compiled by the Alabama Department Of Transportation show fatal accidents have gone up in Macon County from 2012 to 2016.  In 2012, out of 620 crashes, four them involved fatalities. In 2016, out 744 crashes, 13 of them involved fatalities. These numbers represent the entire county, which includes deadly accidents on Interstate 85.
Alabama News Network contacted Macon County's state Representative Pebblin Warren to find out why more taxpayer money isn't being used to hire more troopers.
Warren says "the problem is you just don't have the dollars in the general fund; the education fund is funded differently from the general fund and we've been struggling for a couple of years now with our general fund revenue. Nobody wants to do taxes, nobody wants to do lottery, but you cannot run a state and provide the services with no money."
To address the trooper shortage issue and save money, former Alabama Governor Robert Bentley created the Alabama Law Enforcement Agency in 2013. It combined the state's 12 law enforcement agencies and functions into one department.
"I think on paper it looked like it was a good thing, but legislators in the last year have indicated it really did not save any money and it's made the whole thing more cumbersome," said Political Analyst Steve Flowers.
It also appears the number of troopers has decreased instead of increased under the new agency.
Right now, ALEA has 374 vacancies for troopers.
The vacancies continue to mount at a time when another more recent University of Alabama study, shows the number of deadly accidents were up statewide 27% in the first eight months of 2016 compared to the same time period in 2014.
As ALEA continues to try and beef up its trooper ranks, local departments like the Macon County Sheriff's Office will continue to plug highway enforcement holes created by the critically low number of state troopers.
"Here in Macon County we don't have an abundance of deputies. We have about 20 to 22 deputies, so for 600 and something square miles to cover; that's a lot so we don't have any extra people to sit around. I know we need more troopers on the street. I would never say anything bad about the troopers because they do their job they're always here when we ask; when we need them I just know we need more of them," said Sheriff Brunson.
ALEA does plan to hire at least 30 more troopers this year with money lawmakers set aside in the new fiscal budget.
Officials stress, even though the state has a low number of troopers, safe roads begin with safe drivers.
Speeding, not wearing seat belts and distracted driving were main causes for many of the accidents around Alabama.