Tag, 'Duck, Duck, Goose' and Dozens Of Other Activities Deemed "Inappropriate" for P.E.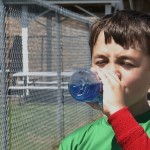 You may have played games like Dodge Ball,'Red Rover' or the classic game of "Tag" in P.E. growing up. According to a guide that has been drumming up debate on social media, Alabama Physical Education teachers should avoid those games all together.
Yoga, 'duck-duck goose', and musical chairs are among dozens of activities deemed 'inappropriate' in a guidance document that has since been deleted from the Alabama State Department of Education (ALSDE) website.
The guide is about 2 years old but gained traction after it was shared Tuesday by the Auburn University at Montgomery Physical Education Program on it's Facebook page.
They have also since deleted their post but some of the reasons that the guide recommended that these games and activities not be allowed in P.E. include.
-High likely hood of injury
-Have the potential to embarrass or single students out in front of the class
-Or over emphasize fun with no purpose or objective
Alabama Superintendent of Education Eric Mackey said that it is unclear where the document came from or how it ended up on the ALSDE website but "it's not an official state document, it doesn't come as a recommendation from our office, certainly not from our state school board". The superintendent clarified that "we want our local P.E. teachers an principals to make the decisions on what's most appropriate for children in their schools"
Mackey said the department is conducting an internal investigation to determine where the list came from. Though it has been deleted from the ALSDE website much of it can still be found in the Alabama Physical Education Guide still available online here. (pages 202-204)