Ivey Raises $495,000 in August; Maddox to Report $338,000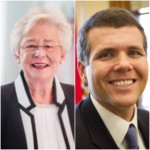 Alabama Gov. Kay Ivey raised nearly $500,000 for her campaign last month as the incumbent Republican regains a cash advantage over gubernatorial challenger Walt Maddox.
In a campaign finance report filed Tuesday, Ivey reported raising $400,000 in August. That is in addition to $95,000 in large contributions she reported last month.
The report shows Ivey is regaining a fundraising advantage in the governor's race after she and Maddox reported similar fundraising numbers in July.
However, Maddox's campaign indicated it will report competitive fundraising numbers for August.
Maddox campaign spokesman Chip Hill said Maddox will report raising $338,000 last month.
Maddox will file his fundraising report Wednesday.
(Copyright 2018 The Associated Press. All rights reserved. This material may not be published, broadcast, rewritten or redistributed.)