Selma Police Officer In Stable Condition After Being Shot by High-Powered Rifles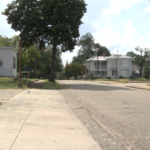 A Selma police officer is in stable condition after being shot in the chest early Sunday morning while on patrol.
The officer is not being identified, but he was on patrol in an unmarked police car at the time.  He was wounded by multiple high-powered rifles as he drove on Furniss Avenue. He had been involved in investigating a homicide earlier.
The officer drove away to escape the gunfire…but lost control of the vehicle and it overturned.
Dallas County District Attorney Michael Jackson says the suspects used high-powered rifles.
The officer was hit in his chest. Another officer transported him to Vaughan Regional medical Center, and he was taken to a hospital in Birmingham. He is listed in stable condition.
Jackson says the there are persons of interest in the case. The shooting is being investigated by The Drug Task Force, ALEA, and Alabama State Bureau of Investigation.