Members Of NAACP Speak Out Against Judge Gorsuch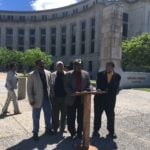 NAACP members across the river region are not too happy about the possible confirmation of Neil Gorsuch to The US supreme court. The president of the Montgomery chapter, Rayford Mack, says whether Republican or Democrat, we need someone on the supreme court seat that is going to represent all of the American people, and Neil Gorsuch is not the man for the job.
Several other members agreed and say that open seat should be filled by someone who is impartial and whose decisions will be favorable to the working class. "Nominate somebody that has an appeal to a very broad spectrum of the American public, that is what needs to be done, and Neil Gorsuch is not that person." said Bobby Mays, president of the Elmore County chapter of the NAACP.
Mays says  that appointing Neil Gorsuch to the open supreme Court Judge seat, would ultimately be taking steps backwards.
"many of the gains not just black folk have gotten over the last 20-30 years, many of the gains that women have gotten , over the last 20-30 years, that gays hand bisexuals have gotten over the last several years these things are now at risk..even the pioneer case of roe v. wade.. it is at risk of being overturned. "
Mays says that the appointed Supreme Court justice should uphold the interests of ordinary Americans instead of the corporate interests. he adds  "the people who have deep pockets, those millionaires those billionaires who are on top of the world so to speak, those people will benefit the most and the common man would be the loser that's not right."
Rayford Mack (Montgomery NAACP)  says that he's concerned with Gursuch's decisions in other cases as well. He adds "Its 10 years of rulings in reference to his decision on women, criminal justice cases involving legal council , equal protection, search and seizure laws… the list goes on. "
Members of the NAACP are now calling on senators across the country to block Gorsuch's confirmation. Mays adds "that's why were calling on President Trump, we're asking them to do the honorable thing".
Not only are members of the NAACP against the nomination of Neil Gorsuch, they are outraged by the use of "nuclear option"… which the republican majority senate invoked today. Under this option, only 51 votes are needed for confirmation… Instead of of the usual 60.
The final vote on Judge Gorsuch is now expected as early as Friday, with Republicans predicting a victory.