Evergreen Community Rallies Behind Cancer-Stricken Teen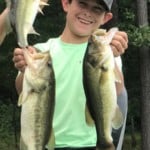 School hasn't started yet at Sparta Academy in Evergreen, but that didn't stop students and faculty from showing up bright and early Wednesday morning to sell t-shirts, magnets and signs to support their fellow Trojan, Jackson Conway.
The rising 9th-grader was recently diagnosed with Ewing's Sarcoma Cancer. He and his family will be headed to MD Anderson Hospital in Houston, Texas to determine the best course of treatment.
"We want them to be able to get his treatment and not have to worry about finances or worry about how they are going to take care of this or take care of that so as a community we wanted to just stand behind them and raise money to help offset some of those costs " says Jodie Gauna, Jackson's cousin and receptionist at Sparta Academy.
Jackson's aunt, Michelle Conway, says they can't thank the community enough for their overwhelming support. She says "We never would have expected, all of the people that would come out and the business and the cards already, and the phone calls".
But it's more than just members of the Evergreen community who have reached out. Michelle Conway says "He's had O.J. Howard from the University of Alabama football…he called Jackson Sunday & Jackson was just shocked when he got the phone call but he loved it and we had Greg Vincent who is a professional fisherman, he took Jackson fishing the other day and that just made his whole year probably."
Those who know Jackson, say he's an athletic, funny, kind-hearted young man. His aunt says that even through this difficult time, he's been the rock for the family and that "he knows it, he knows he's going to be ok, he's kind of supporting us, and telling his mom and dad that they don't have to worry about them because he's gonna win this and he's going to be okay".
Family and friends gathered at Evergreen Regional Airport for a warm "see you later" send off, most wearing their 'TeamJackson' shirts. They say that the support back home will remain stronger than ever.
If you'd like to donate to Jackson and his family you can find more information on the TeamJackson Facebook page.