Troy Police Urging Driver Caution in School Areas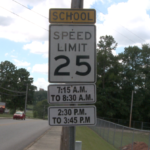 With the return of school comes the return of school traffic.
The Troy Police Department is urging drivers to be cautious now that all county and city schools will be in session beginning Thursday. The department says its officers will be directing traffic around schools with heavy traffic areas. Lieutenant Bryan Weed wants motorists to be cautious.
"We just really want to urge people to give themselves plenty of time when they're leaving home to get to school in case they have any unseen problems and what not, as well as just be patient," Weed said. Be patient with other motorists, and be patient with the officers."
School traffic is also a concern for the parents of students like Tina Lieb.
"When you're at the elementary schools, you know, some of those kids are going to run out in traffic, and they're not gonna be watching for you. So you have to be watching for them."
Lieb says student drivers are still in a learning phase, which means extra caution should be taken when entering school grounds.
"You have new drivers. Some of them think they're experienced, they've been driving all summer. But when they come on campus, this might be the first time they've been around a lot of other cars."
The easiest advice motorists can follow, according to Weed, is to simply make sure everyone in your vehicle is obeying all traffic laws.
"Make sure they use their signals. Something as simple as that when they're coming up. It kinda helps our officers figure out which way they're going."
The Police Department wants to help all motorists get the school year off to a safe start.
Pike County Schools began earlier this week. Troy City Schools and Pike Liberal Arts School begin Thursday. With Troy University beginning next week, the police department says safety is its top priority.