Excess Rain Causing Trouble for South Alabama Farmers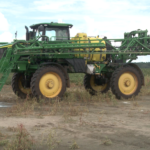 Its getting close to Alabama's harvest season. Hay, peanut and cotton farmers are experiencing difficulties due to the heavy amounts of rain.
Jesse Oglesby and his family own a hay farm. He says this season has not been kind to their farm.
"It has been terrible," Oglesby said. "Last year, there wasn't quite as much rain. We were able to produce a lot more hay than what we have been. But this year, for some odd reason its just been difficult, and the rain has played a big part in that."
Oglesby says the rain is causing his family farm to waste valuable time, a problem the farm didn't have last year.
"One of the big problems that we have is we cut it and we tether it, and then rake it," Oglesby explained. "Once the rain comes in, we have to go back, re-tether it all over again and then re-rake it. Its a process that should take a day, but lately, but this season its taking a week."
Henry Patterson owns a peanut and cotton producing farm. He says he seeing too much rain, which is bad for his crops. The heavy rains beat down his bushes and turns his fields into a muddy mess.
"We're gonna be plowing up peanuts probably next week and it didnt even dry on up, and we're gonna be plowing up mud… we'er gonna have some damage in cotton, its gonna be weighing both ways."
But Patterson says he can't let the rain affect his job.
"When it comes to harvest time, you have to get it or you'll miss it," Patterson said.
In 2017, cotton had a production value of over 265 million dollars; hay had a value of over 208 million; and peanut production had a value of over 155 million, according to the USDA.