Bell Ringers Needed: Salvation Army Kicks Off Red Kettle Season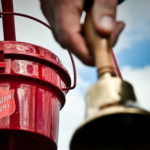 If you're out and about this weekend, you may hear some familiar sounds of the season.
Montgomery's Salvation Army Red Kettle campaign is underway and starting Friday, the famous red kettles will appear outside of more than 40 businesses and organizations in the Montgomery area. The Salvation Army is still looking for more volunteer bell ringers to help collect donations.
Corp officers, Lieutenants Bryan and and Tanya Farrington are leading the Red Kettle Campaign in Montgomery. It's one of the busiest times of the year, that doesn't run quite as smoothly without volunteers to help ring in the donations. The organization does hire some bell ringers for the season, though, volunteers are preferred  to help the Salvation army raise more money for its' outreach.
"If we have to spend $75,000 in paying people for this month and a half it really decreases what we can do in the community" explained Tanya "the more revenue that stays [in the organization] it gives us an opportunity to touch more peoples lives".
This year organizers aim to raise $350,000 dollars locally by Christmas. "Each dollar impacts a life, and where we fall short, that's less resources for the ministry" Bryan added.
The money collected in the red kettles help fund the salvation army's year round programs  including their kitchen and shelters. This past year the Salvation Army served over 4,000 people. The organization is hoping to expand its impact in the River Region, with the help of those donating not only their money, but their time.
Click here, for more information on how you can become a volunteer bell ringer.