Officials Break Ground on New Pike County Shopping Center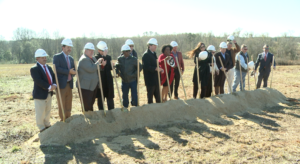 Pike County leaders and Hutton partners broke ground Wednesday morning on a new retail mall, which means more options will soon be available for shoppers.
"It'll be a very large development," Troy Mayor Jason Reeves said. "We believe it will put us more in line to be even more of a regional shopping destination."
The Hutton Trojan Marketplace is a project three years in the making.
Now a reality, the project will include stores like Hobby Lobby, TJ Maxx, Ulta Beauty, and Rack Room Shoes.
"The mayor's vision for the community and the council's vision and what they've done to attract industry and invest for the growth in their community, it's an investment thats paying off," Hutton Project development partner Jamey Flegal said.
Hutton is a commercial real estate and investment company based in Chattanooga, Tennessee. Flegal said the growth of the community was an important part that led Hutton to choose the city of Troy for the project.
"The university's really spawned a lot of growth within the Troy community," Flegal said.
The 120,000 square foot shopping center will be located across from the Troy Regional Medical Center off Highway 231 and John Witherington Drive.
"The components of this is, not only making us a regional destination, but keeping our people at home, giving them an option, more of an option," Reeves said. "It'll provide employment, it'll provide an opportunity for people to shop here, quality of life, things of that nature."
It's unclear just how many jobs the shopping center will provide.
The Hutton Trojan Marketplace is expected to open by spring 2021.