US Rep John Lewis of Georgia Battling Pancreatic Cancer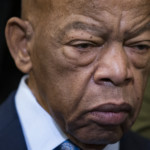 Congressman John Lewis of Georgia has announced he has advanced pancreatic cancer, vowing he will will continue serving in Washington while he fights the disease and undergoes medical treatment.
Lewis, now 79 years old, is the youngest and last survivor of the Big Six civil rights activists out of a group once led by the Rev. Martin Luther King Jr.
The veteran Democratic congressman from Georgia said in a statement Sunday that the cancer was discovered this month during a routine medical visit. He said subsequent tests confirmed the diagnosis of advanced pancreatic cancer.
Lewis was born in Troy and is a regular guest at civil rights celebrations in Alabama, including the annual Bridge Crossing Jubilee in Selma.
That event remembers Bloody Sunday of 1965. Lewis was beaten and had his skull fractured during that march across the Edmund Pettus Bridge on March 7, 1965.
Alabama's 7th District U.S. Rep. Terri Sewell, who represents Selma and knows Lewis well, released this statement:
"I know that my friend and mentor John Lewis will face his health diagnosis with the same faith, determination and courage that he displayed in our nation's darkest moments, when he fought for equality and justice. I thank God for his gentle, fighting spirit, knowing that it will continue to serve him well in the battles ahead. We need his leadership now more than ever."
(Copyright 2019 The Associated Press contributed to this report. All rights reserved. This material may not be published, broadcast, rewritten or redistributed.)